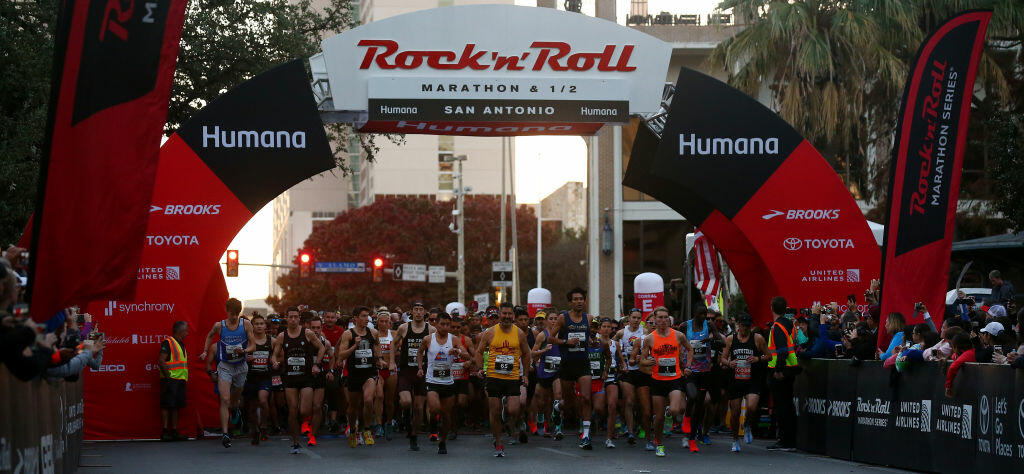 Runners from all across the globe are in San Antonio this weekend for the annual Humana Rock 'n' Roll Marathon San Antonio.
There will be plenty of road closures in downtown this weekend during the event. The event starts with a 5K and 10K Saturday morning followed by a marathon and half-marathon on Sunday. 
People can expect Broadway inside I-35, along with 60 others roads, to be shut down around 6 a.m. on Saturday. 
The streets will re-open once the races are over but will close again on Sunday morning at 6 a.m.  
FULL ROAD CLOSURES:
Navarro St Whole Road
Hoefgen Ave Whole Road
E Commerce St Whole Road
Chestnut St Whole Road
Burnet St Whole Road
Brooklyn Ave Whole Road
Austin St Whole Road
E Jones Ave Whole Road
Camden St Whole Road
Newell Ave Whole Road
Quincy St Whole Road
N St. Mary's St Whole Road
E Park Ave Whole Road
E Euclid Ave Whole Road
W Josephine St Whole Road
N St. Mary's St Whole Road
E Ashby Pl Whole Road
Lewis St Whole Road
W Dewey Pl Whole Road
N Main Ave Whole Road
E Laurel Whole Road
Howard St Whole Road
W Cypress St Whole Road
Ogden St Whole Road
E Maple St Whole Road
Lexington Ave Whole Road
Camden St Whole Road
Wilmington Ave Whole Road
N St. Mary's St Whole Road
McCullough Ave Whole Road
OTHER ROAD CLOSURES
E Travis to E Pecan St 4:30AM 1:00PM
E Commerce St to Montana St 4:00AM 9:00AM
Hoefgen Ave to Chestnut St 7:00AM 8:30AM
E Commerce St to Burnet St 7:00AM 8:30AM
Chestnut St to Brooklyn Ave 7:00AM 8:30AM
Burnet St to Austin St 7:00AM 8:30AM
Brooklyn Ave to E Jones Ave 7:00AM 9:00AM
Austin St to Camden St 7:00AM 9:00AM
E Jones Ave to Newell Ave 7:00AM 9:00AM
Camden St to Quincy St 7:00AM 9:00AM
Newell Ave to N St. Mary's St 7:00AM 9:00AM
Quincy St to Camden St 7:00AM 9:00AM
Newell Ave to E Euclid Ave 7:00AM 9:15AM
E Park Ave to W Josephine St 7:00AM 9:15AM
E Euclid Ave to N St. Mary's St 7:00AM 9:15AM
W Josephine St to E Ashby Pl 7:00AM 9:15AM
N St. Mary's St to Lewis St 7:00AM 9:15AM
E Ashby Pl to W Dewey Pl 7:00AM 9:30AM
Lewis St to N Main Ave 7:00AM 9:30AM
W Dewey Pl E Laurel 7:00AM 9:30AM
N Main Ave Howard St 7:00AM 9:30AM
E Laurel W Cypress St 7:00AM 9:30AM
Howard St Ogden St 7:00AM 9:30AM
W Cypress St E Maple St 7:00AM 9:30AM
Ogden St Lexington Ave 7:00AM 9:30AM
E Maple St Camden St 7:00AM 9:45AM
Lexington Ave Wilmington Ave 7:00AM 10:00AM
Camden St N St. Mary's St 7:00AM 10:00AM
Wilmington Ave McCullough Ave 7:00AM 10:00AM
N St. Mary's St Avenue A 7:00AM 10:00AM
Wilmington Ave McCullough Ave 7:00AM 10:00AM
N St. Mary's St Avenue A 7:00AM 10:00AM
More information is at runrocknroll.com/san-antonio
Photo: Getty Images